25 years ago, Custom Pools of Naples was started with Matthew 22:37-39 as our mission statement:
"Love God with all your heart, mind, body and soul and love your neighbor as yourself"
Striving to be a business of integrity, we operate Custom Pools of Naples with a joyful attitude, good business sense and an absolute trust that it is God who provides for everything. We pride ourselves on communication and service as this is the backbone of our business and what sets us apart within the industry.
Daily we read the Word of God together, pray for our families, our community, our nation and our world. Our hope is to bless all of our customers with a great experience, and at the same time transform their backyard into a beautiful oasis that will be used by family and friends for years to come.
We are not just your typical pool builder! Our passion is to maximize your outdoor living experience. Whether you want to add a pool or remove your old pool and put in a new one, we can help inspire, design, and bring to life your dreams. From basic facelifts to total renovations our team can partner with you or your builder to create a space that will make you feel like every day is a vacation. Your outdoor experience can include many things from, cabanas, outdoor kitchens, decks, firepits, and even an all paver basketball court. We specialize in all areas of outdoor space and can creatively achieve many of your goals even if you feel your space is too small. Let our design team go to work for you.
We look forward to meeting with you to hear about your dreams and what we can do to help make them a reality!
Contact Custom Pools Of Naples
If you would like to schedule a consultation with our pool design team or if you would like more information regarding new pool construction, water features, or outdoor living spaces from Custom Pools Of Naples, please feel free to contact us directly by calling 239-598-3322.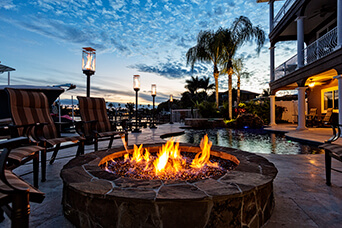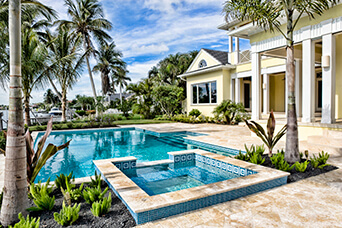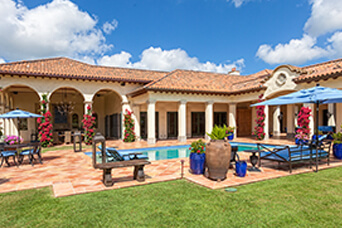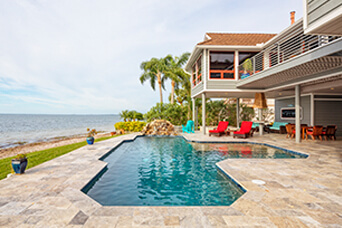 What People Are Saying About Us
Custom Pools of Naples have been great for us. They were very professional and went above and beyond to make us happy. The pool itself was a great value for the price. We love our pool and we would definitely use them again should we ever have to build another pool ever.
Chris D.
We are very happy with our pool. Everyone at Custom Pools of Naples was very professional and easy to work with from start to finish! We got to exactly what was promised. I would highly recommend them!!
Andrew G.
Florida Living At Its Best
Living in Florida means enjoying life in the sun. Custom Pools of Naples, Southwest Florida's Premier inground pool contractor, can help you design and install the perfect backyard oasis for you and your family. From concept to completion, we will help you realize the perfect backyard escape from today's hectic world.